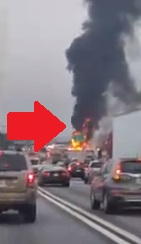 18 Wheeler Truck Explodes on I-85 N Highway Causing Massive Fire After Car Crash.

There is massive fire on Highway I-85 N before Jimmy Carter, after an 18 wheeler collided with two cars. Even the exit sign on the highway was engulfed in fire. Video of the incident has gone viral.

Cars can be seen moving at a stand still as a raging fire burns on the highway billowing smoke as far as they eye can see. It's not know whether there an fatalities in the accident.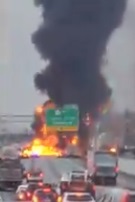 A close up of the highway sign melting from the fire shows just how big the fire is.
Let's hope everyone was ok.
Author: JordanThrilla