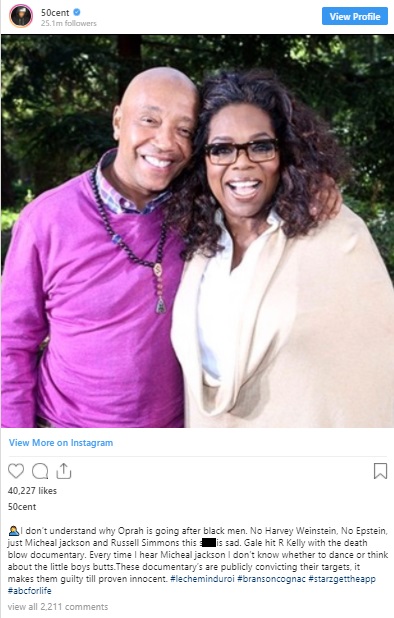 50 Cent Disses Oprah Winfrey in Instagram Rant For Targeting Black Men with Documentaries, and Publicly Convicting them in the media. 50 Cent Calls Out Oprah on IG.
50 Cent dissed Oprah on IG for attacking black men with documentaries, but never Harvey Weinstein or Epstein. He believes the documentaries are publicly convicting them even though they haven't been proven guilty.
While 50 cent is know for his ridiculous rants, many people believe he is making a good point this time around.
Here is his full statement from the Instagram post:
I don't understand why Oprah is going after black men. No Harvey Weinstein, No Epstein, just Micheal jackson and Russell Simmons this s*** is sad. Gale hit R Kelly with the death blow documentary. Every time I hear Micheal jackson I don't know whether to dance or think about the little boys butts.These documentary's are publicly convicting their targets, it makes them guilty till proven innocent.