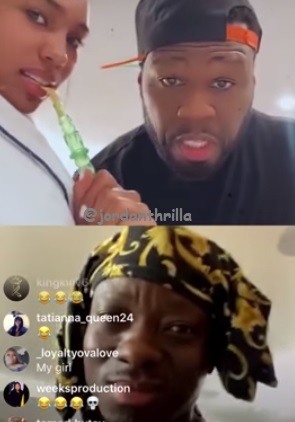 50 Cent Drunk On Instagram Live Pulls Out $500,000 Cash and Semi-Automatic Assault Rifle DRACO.
50 Cent has social media going crazy after his legendary IG live session. 50 Cent pull out an automatic DRACO machine gun, $500K in cash, while drunk on Instagram Live. His girlfriend Cuban Link was with him as well. Michael Blackson was watching them on the IG live feed too.

The video is surprising for a few reasons. For one, 50 cent claimed he didn't drink alcohol, but since he's drunk it means he does now. Secondly, this might be the first time we have ever seen 50 cent drunk.
Let's just hope he didn't do anything crazy with gun while he was tipsy. All in all it looks like 50 Cent is enjoying the quarantine.
Author: JordanThrilla