Aaron Hernandez Gay Love Story Exposed as Completely Fake by HS Classmate.

Aaron Hernandez being in love with another man may be a complete lie. A person who went to High School with him is claiming that Dennis SanSoucie was not Aaron Hernandez's QB, which makes story false.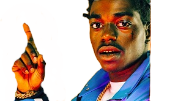 He claims his quarterback was Matt Coyne. In the full quote he said,
"I'm from Bristol CT AND went to Bristol Central HS and I can tell you Matt Coyne was Aaron Hernandez's QB not Dennis SanSoucie LOL so this narrative of QB/TE in love doesn't add up. But I see how powerful the media is and how it controls the minds of the masses".
He is alluding to rumor that the documentary was actually made to push an agenda. Many people watched the doc and immediately thought the guy claiming to have been in a relationship with Hernandez, sounded like he was lying.
No one knows the truth for sure, but things are looking a bit fishy.
Author: JordanThrila