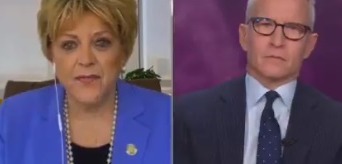 Anderson Cooper called out the Mayor of Las Vegas for having no plan for businesses to re-open safely. The Mayor of Las Vegas Carolyn Goodman told Anderson Cooper it's not her responsibility figure how to open businesses safely.
The whole interview went left quick as the Las Vegas Mayor started to feel she was being interrogated by Anderson Cooper. It seemed more so that she was mad about not being knowledgeable enough to answer the important questions he was asking.
The Anderson Cooper vs Las Vegas Mayor verbal spar is now viral, with many people disgruntled about Carolyn Goodman's comments on re-opening Las Vegas.
Author: JordanThrilla