Barack Obama Makes Rapper Lizzo Cry Morning Tears.

Lizzo was brought tears after Barack Obama included her song "Juice" on his list of 35 favorite songs. Lizzo saw the list and wrote this message to Barack Obama,
"I love you so much Mr. Obama.. thanks for assisting me with my morning cry".
In Barack Obama's tweet her wrote,
"From hip-hop to country to The Boss, here are my songs of the year. If you're looking for something to keep you company on a long drive or help you turn up a workout, I hope there's a track or two in here that does the trick."
Take a look at his tweet below: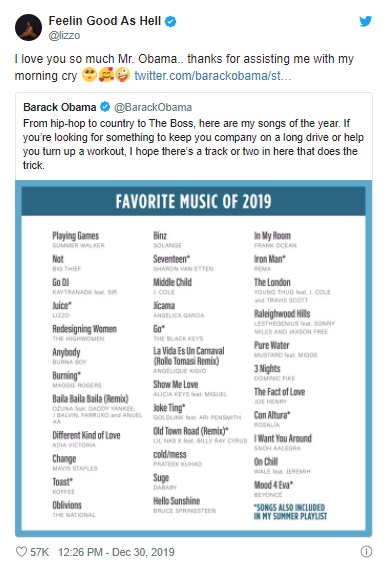 Looks like Lizzo's 2019, ended on a very memorable high note.