Bernie the Beaver Spotted Holding Tissues for Heartbroken Harley Quinn in New Birds of Prey Trailer.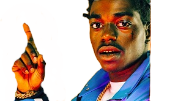 Bernie the taxidermied Beaver was seen being emotional support for a sad Harley Quinn, after her breakup with the Joker in the newest Birds of Pray Trailer. Harley Quinn thinks Bernie talks to her, while no one else can hear him, but fans didn't know he had an emotional side in this way.
If you've ever watched the show "Family Guy", there is a dog on the show named Brian who thinks the baby named Stewie can talk to him. No one else hears the baby talking, but Brian. Bernie is Harley Quinn's equivalent of Stewie.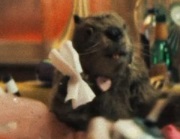 The story goes that Harley Quinn stole Bernie from a guy she liked in High School, after he was sent to jail. It was the only thing she kept to remember him by. This made it extra cool to see him providing emotional support for Harley Quinn in the new trailer.