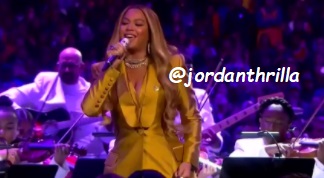 Beyonce Performing Halo at Kobe Bryant Memorial Service Celebration Goes Viral.
Beyonce singing Halo at The Celebration of Life Kobe Bryant Memorial was absolutely breathtaking. Beyonce's performance of Halo for Kobe and Gianna instantly went viral with fans being excited and sad all at once at how uplifting it was.

It's still hard to believe Kobe Bryant is gone, but this our reality now. It's beautiful to see everyone still celebrating his legendary life weeks after his unfortunate death.
Beyonce did Kobe and Gianna justice with her amazing emotional performance.
RIP Kobe Bryant, Gianna, and the 7 others who passed way on that sad day.
Author: JordanThrilla