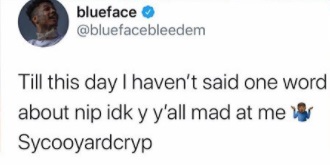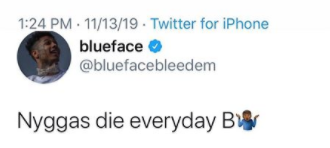 Blueface Disrespects Nipsey Hussle Again On Instagram says "Nyggas Die Everyday B" plus more.

Blueface is back at it, with his disses toward the slain Nipsey Hussle. This time in a series of disrespectful tweets Blueface said,
"Nyggas Die Everyday B, Till this day I haven't said one word about nip idk y ya'll mad at me Sycooyardcryp"
To Blueface's defense, it has been Wack 100 who has made most of the disrespectful comments on Nipsey Hussle. However, Blueface has continuously taunted Nipsey Hussle's associates on social media and disrespected Nipsey Hussle in a more subliminal way. He also has been laughing, and cheering Wack 100 on in the background of videos where the comments where made. If there were any Nipsey fans that were not mad at Blueface, they most likely are after this tasteless comment from him.