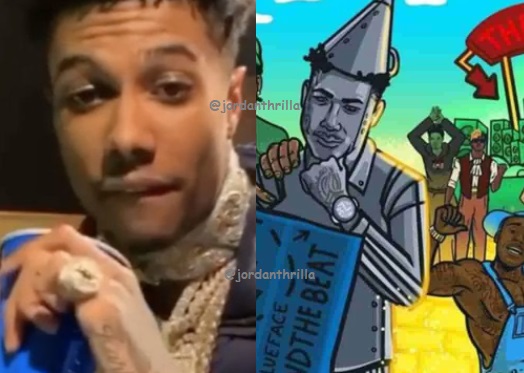 Blueface "Find the Beat" Album Goes Viral For Being Bad. People Clown Blueface "Find the Beat" Album on Social Media For Being Wack.
Blueface's "Find the Beat" Album just dropped, and a lot of people think it's wack. People are very angry they have to listen to a Blueface album instead of the Lil Uzi Vert or 21 Savage albums.
Social media started clowning Blueface's new album claiming it was very wack, making it go viral for all the wrong reasons.

Some people said the new Blueface album is better played on mute, others showed memes of people being extremely bored or sleepy. Some people even went as far as posting video of people in tears over having to listening to a Blueface "Find the Beat" instead of Uzi Verts "Eternal Atake" or 21 Savage "Savage Mode 2" albums. Some people where straight forward with it and posted videos of people saying it was complete trash in various ways.
Usually when two other artists' albums get delayed and you get to be the only one releasing an album, it should be a good thing. In this case though, the Blueface "Find the Beat" album is apparently so bad, all he has done is anger the public that was hungry for some good hip hop music.
It will be interesting to see what those first week sales look like given the bad reviews on social media. Sometimes bad press is good press, because a lot of people might be streaming "Find the Beat" right now just to see why it's viral for being so bad.
Author: JordanThrilla