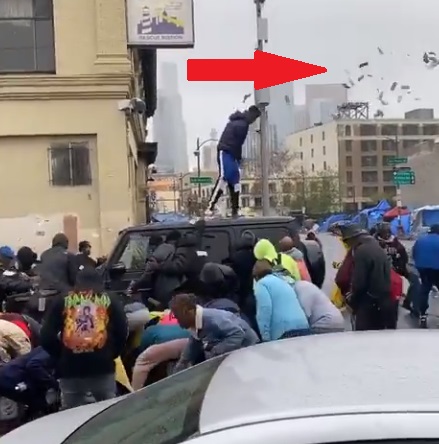 Blueface Goes to Skid Row To Literally Rain Money on Poor People for Christmas Holidays, Causing Them to Fight over the falling Cash.

Blueface had good intentions when he traveled to Skidrow in LA to give back money to people in need; but it caused a potentially dangerous situation. Blueface stood on top of his car and threw money in the air at poor people, which caused them to frantically battle each other on the ground for cash.
There weren't any serious fights, but you could see the people in need scrambling against each other in the rain, to get as many bills as they could. It would of been better to have this setup at a venue where security could organize people in a line, making sure every person safely got the cash they need.
I think we can give Blueface the benefit of the doubt in this situation, cause it definitely looked like a spur of the moment type of deal, one born out of good will. Hopefully he didn't just do this for social media clout and publicity.