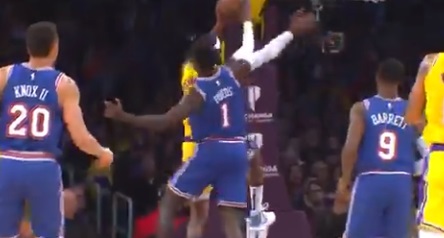 Bobby Portis Smacks the Kufi off Kentavious Caldwell-Pope Head and Gets Ejected during Lakers vs Knicks. Bobby Portis gets ejected.
Bobby Portis smacked the headband off KCP's head, like Dipset's Cam'ron and Jim Jones were smacking Kufis off peoples heads around New York. The play sent KCP flying violently to the floor.
Bobby Portis was assessed a flagrant 2 and quickly ejected. Going back to the time where Bobby Portis literally broke Nikola Mirotic face, he's been known as a player with a hot temper.
It's no surprise he isn't afraid to take a dirty foul like this on someone. Luckily KCP ended up being okay. Cam'ron and Jim Jones are likely very proud of this kufi smacking moment.