Boeing Disses Its Own Employees Who Built the unsafe 737 Max Airplane, and Boeing Executive admits to Jedi Mind Tricking Regulators in Leaked Messages.

Boeing is viral after internal messages leaked where they say the Boeing 737Max was designed by clowns and monkeys. A Boeing employee also said they "Jedi Mind Tricked' Indian regulators in using the plane that led to two fatal accidents, killing 346 people.
Here is the leaked message that describes how the Boeing Excutive bragged about Jedi Mind tricking the DGCA into using the faulty 737 Max airplane.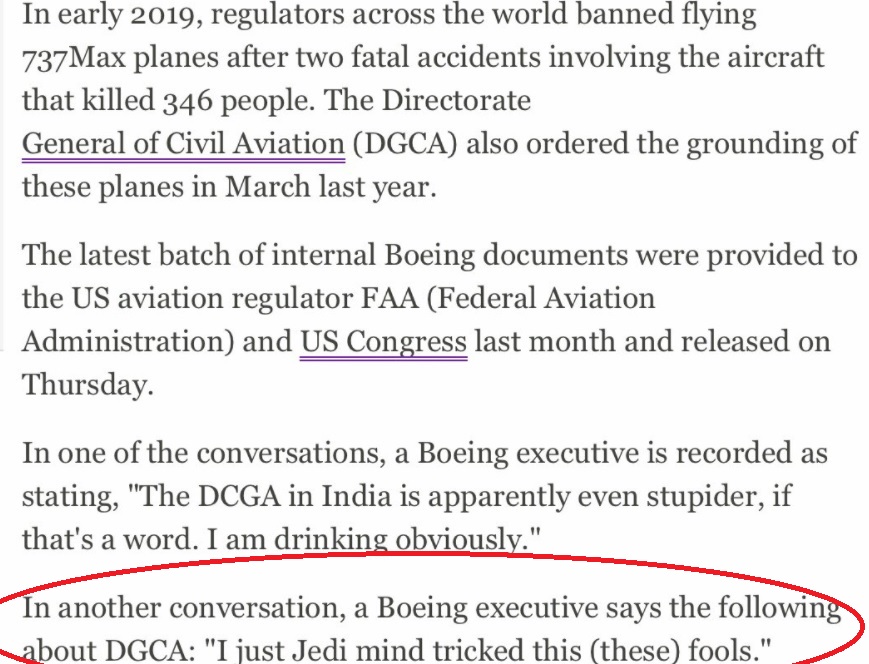 The situation gives you a look into the evil world of corporations like Boeing. Here you have executives who don't value human life enough to be honest about a faulty airplane. You have an executive bragging about a dangerously unsafe plane that humans beings will be flying in. This was what led to the deaths of 346 innocent people who flew on those planes in India.
It's stories like these that make those people who are afraid of flying in airplanes, even more afraid.