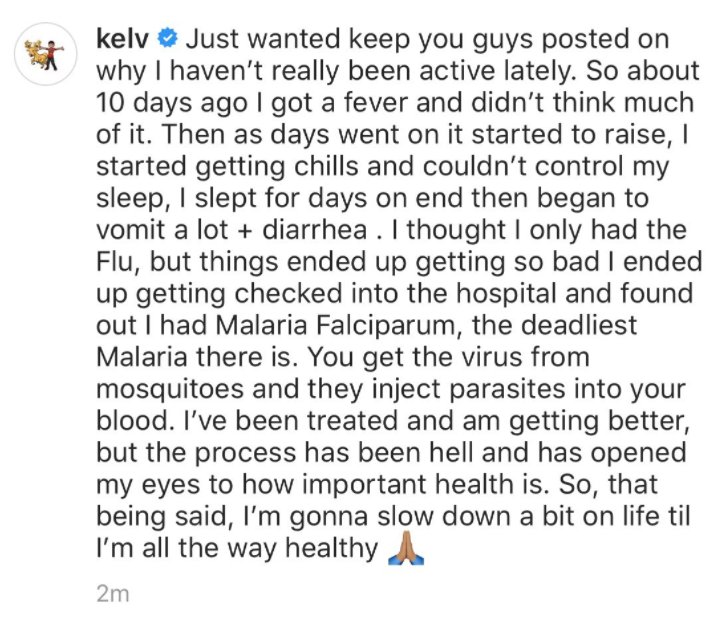 Brother Nature announces he has Malaria Falciparum Virus, from Mosquitoes Injecting Parasites into his Blood 10 days ago.

Brother Nature hasn't been active lately, and he finally revealed why in a lengthy twitter post. In the post he said he has the deadliest form of Malaria. Here was his full statement below,
"Just wanted to keep you guys posted on why I haven't really been active lately. So about 10 days ago I got a fever and don't think much of it. Then as days went on it started to raise, I started getting chills and couldn't control my sleep, I slept for days on end then began to vomit a lot + diarrhea. I thought I only had the Flu, but things ended up getting so bad I ended up getting checked into the hospital and found out I had Malaria Falciparum, the deadliest Malaria there is. You get the virus from mosquitoes and they inject parasites into your blood. I've been treated and am getting better, but the process has been hell and has opened my eyes to how important health is. So, that being said, I'm gonna slow down a bit on life till I'm all the way healthy"
So there you have it, Brother Nature is very sick with a rare deadly disease, but at least at the moment it looks like he will pull through. Lets keep him in our prayers through this tough time.