Cari Champion fired from ESPN; or did she voluntarily quit?. Did She Quit her Job with ESPN before they could Fire Her?
Cari Champion announced today she is leaving ESPN. Some people believe Cari Champion quit her job with ESPN, before they could fire her. Other believe she actually got fired behind the scenes. In her statement on Twitter she wrote,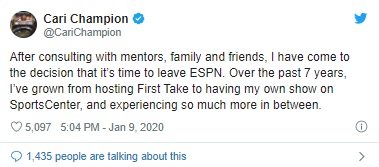 After consulting with mentors, family and friends, I have come to the decision that it's time to leave ESPN. Over the past 7 years, I've grown from hosting First Take to having my own show on SportsCenter, and experiencing so much more in between.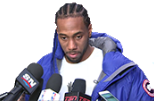 The words sound like those of a person who knows they should be getting paid more, but were continuously undervalued. This could of possibly led to tension within ESPN which made it inevitable that she would have to leave or possibly get fired. It happens commonly in the business world. However, there is still definitely a high chance that she just left peacefully, and nothing was going on.
No matter what the backstory is behind this situation, let's all hope for the best for Cari Champion as she chases her dreams with no fear.