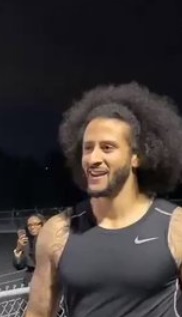 Colin Kaepernick Makes Powerful 90 Second Statement before Leaving his Workout Taking Shots at NFL
Colin Kaepernick Made a 90 Second Statement before Leaving his Successful Private Workout in Atlanta taking shots at NFL. One of the main statements he made is "I've been ready for 3 years, I've been denied for 3 years"
Colin Kaepernick was feeling good after his great workout. Here is a video of his powerful 90 second statement.

In the message Colin Kaapernick says, "I appreciate ya'll coming out, that means a lot to me. Are biggest thing with everything today was making sure we had transparency with went on. We weren't getting that elsewhere, so we came out here, it's important that ya'll are here.
Ya'll been attacked for the last 3 years, ya'll continue to be attacked, we appreciate what ya'll do, we appreciate you being here today, we appreciate the work you do for the people in telling the truth. I've been ready for 3 years, i've been denied for 3 years. We all know why I came out here and showed you today in front of everybody.
We have nothing to hide. So we're waiting for the 32 teams, 32 owners, Roger Goodell, all of them to stop running. Stop running from the truth, stop running from the people. Round here we're ready to play, ready to go anywhere, my agent is ready to talk to any team, i'll interview with any team at any time.
I've been ready, I'm staying ready, and I'll continue to be ready. To all the people that came out here to support, I appreciate ya'll, I love ya'll. To the people that aren't here, I'm thinking of you, and I appreciate the support from where ever you are".
Colin Kaepernick proved to the world he is better than a lot of quarterbacks currently playing. The ball in the NFL hands now.
Author: JordanThrilla