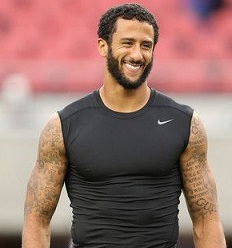 Colin Kaepernick Private Workout in Atlanta Livestream presented by 11 Alive.
The day has come, and it is happening right now. Colin Kaepernick's private workout is underway and you can see the live stream above. So far at the moment he is stretching and doing leg kicks still warming up. He is sporting his iconic Afro, with a large crowd of people watching. He hasn't started throwing yet, but it is expected too soon.
The private workout didn't start smooth with protesters lining up in front of the facility. However, the workout still was able to start at the time planned, and everything is going smoothly now. There has been a lot of hate, but also a lot of support shown for Kaepernick today. Lets all hope he does well.