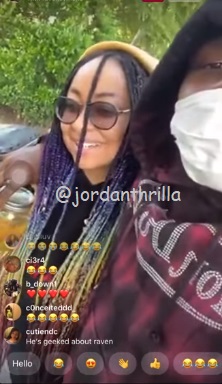 DaBaby Drives to Raven Symone House on Instagram Live Risking Catching Coronavirus to Deliver Food.
DaBaby risked his life to deliver some food to Raven Symone on IG Live. At first they were chatting and talking, while DaBaby ate some fries, then out of nowhere he starts driving to Raven Symone house with the food.

DaBaby at least was wearing a face mask, but both he and Raven Symone are young so they probably wouldn't have anything to worry about even if they caught coronavirus. However, the danger comes from possibly spreading the virus to an older person.
Let's hope DaBaby and Raven Symone don't contract COVID-19 from this daring Instagram Live food delivery adventure.
Author: JordanThrilla