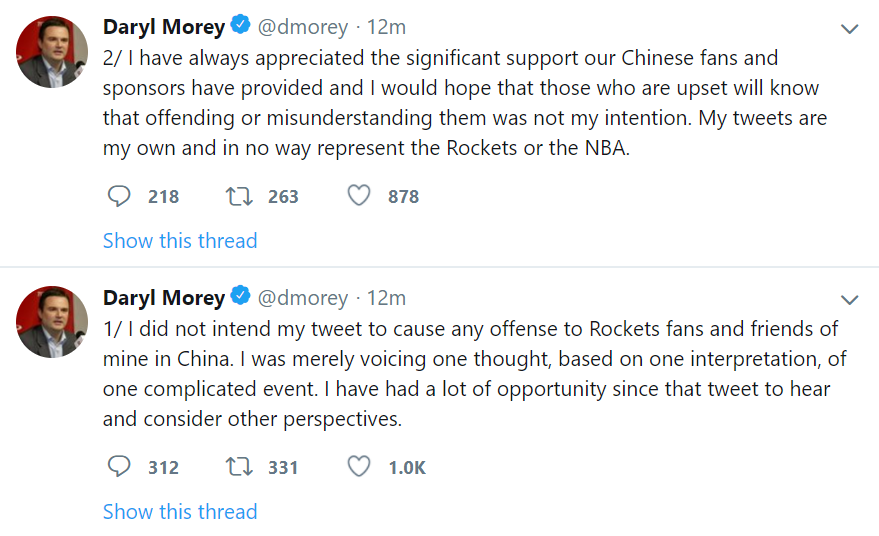 Rockets GM Daryl Morey job is in hot water, and he could be fired soon. Daryl Morey apparently Tweeted a Hong Kong support message. This angered China a lot. Daryl Morey sent out a lengthy apology after seeing the damage done. Allegedly this has led to Rockets games being dropped by the company that broadcasts and sponsors Rockets Games in China. The Chinese Basketball Association also has cut ties with Rockets saying they will not even talk about them in reports anymore.
In his Apology Daryl Morey said:
" I did not intend my tweet to cause any offense to Rockets fans and friends of mine in China. I was merely voicing one thought, based on one interpretation, of one complicated event. I have had a lot of opportunity since that tweet to hear and consider other perspectives.
I have always appreciated the significant support our Chinese fans and sponsors have provided and I would hope that those who are upset will know that offending or misunderstanding them was not my intention. My tweets are my own and in no way represent the Rockets or the NBA."
Sure it sounds like the usual cliche, "My thoughts are not the Rockets thoughts", but I think he is right in saying this all just a misunderstanding. At the same time China has very strong beliefs in the issue with Hong Kong, so it would naturally be an off limit topic to talk about as a major public figure. This is definitely not the whirlwind drama Rockets needed to start the season. Story is still developing.