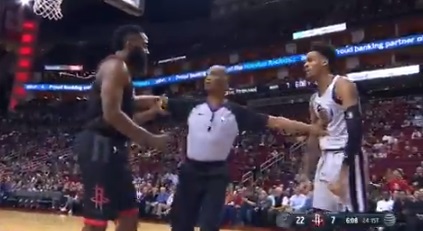 Dejounte Murray tries to fight James Harden, then blocks his shot. Dejounte Murray Tries To 3 Piece Punch James Harden in the Face after Squaring Up to Fight Him.
Dejounte Murray and James Harden almost fought today. It looked like Dejounte Murray was about to give James Harden a 3 piece before referees and players intervened.
The whole scuffle started because Murray was locking up James Harden. Out of frustration James Harden pushed him, which got Dejounte Murray very angry.
Murray got his revenge by blocking James Harden shot into the backboard a few plays later.