Deontay Wilder Says His Legs Got Weakened by Wearing 45 lbs Costume to Ring In Honor of Black History.

A new report says Deontay Wilder's legs were weakened by wearing a 45 pound costume to the ring to honor of Black History Month. The report states Wilder will be exercising his rematch clause for a fight this summer.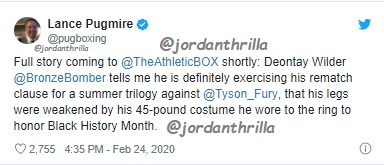 His entrance was nothing short of spectacular, with one of the coolest costumes ever seen in boxing that even had flashing lights. However, you could see Wilder looking down at his legs many times before the fight started. It was almost as if he felt something was "off" in his legs.
That's not to say we agree with what Wilder is saying cause it could all be cap, meaning just another excuse, but there were some subtle signs that would support his legs feeling "weak".
Deontay Wilder Fans will likely use this as more ammo fueling their claims that Tyson Fury cheated.
All in all, the third match between these two boxing legends is already shaping up to be one for the ages again.
Author: JordanThrilla