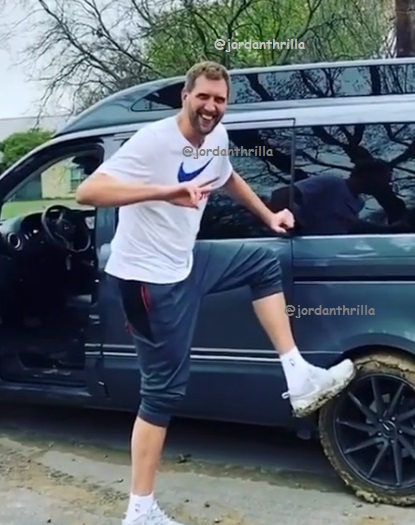 Deron Williams Help Pull Dirk Nowitzki Mini Van Out of Mud in Viral Video. Dirk Nowitzki's mini van gets stuck in mud.
If you thought of Dirk Nowitzki as a person who would drive a Scooby Doo looking van, you were right. In a new video Deron Williams helped Dirk Nowitzki pull his Mini Van out of the mud. Deron William pulled up in his pickup truck, latched it on the Dirk's mini van, and pull it right out the mud, leaving both their tires dirty.

You could see the happiness on Dirk Nowitzki face seeing his car being pulled out the mud. When it was finally free, he stepped on the dirty tire like a boss and gave a victory peace sign.
Former NBA Teammates, never stop being teammates, and Deron Williams proved that by helping Dirk Nowitzki get his mini van unstuck from all that mud.
Dirk is clearly living the good life now without having to worry about winning NBA games, only driving through the mud in his mini van.
Author: JordanThrilla