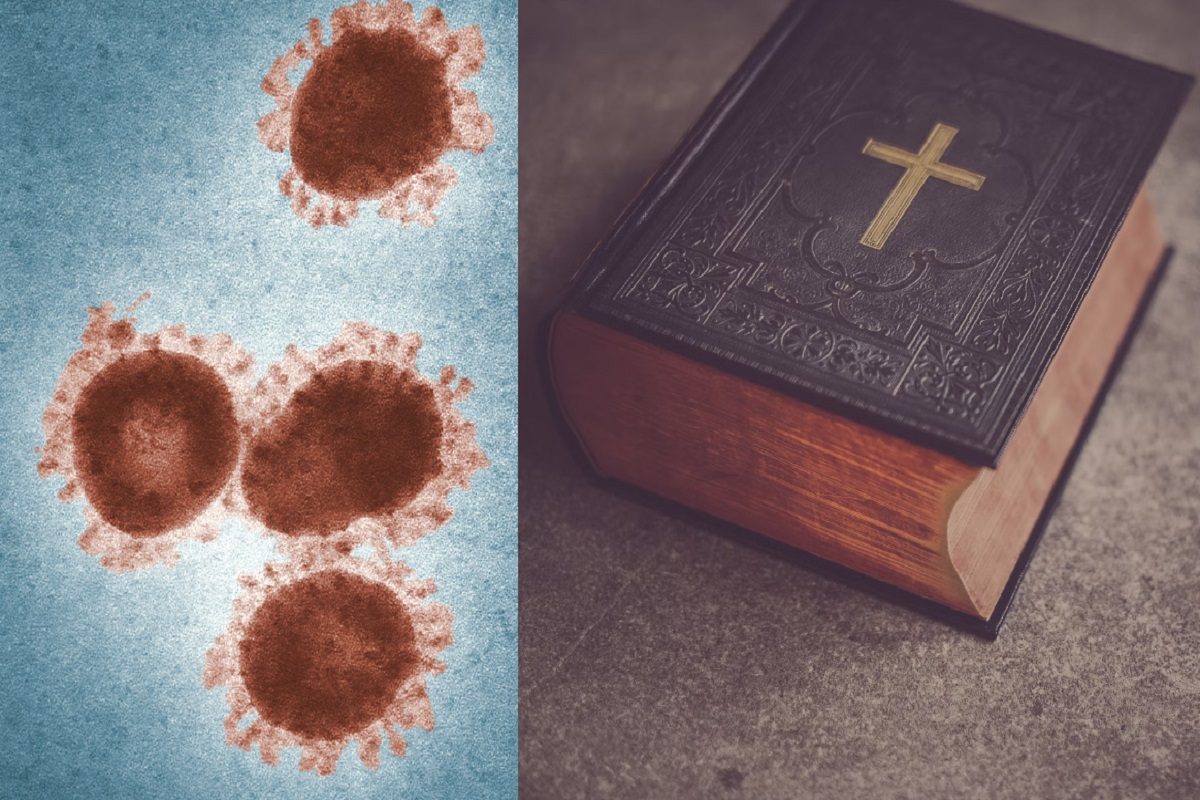 It's well known that religion and the LGBTQ community are two things that might not ever mix together. Many religions believe that relationships between to people of the same gender is a sin. When HIV first started wreaking havoc in America a large majority of the victims were gay people which made many religious people think it was a disease created by God's doing. Modern science has now made HIV something people can live a completely normal life with and also prevent with medications, and stigmas surrounding it are no longer the same. However, with the recent monkeypox outbreak wreaking havoc those same stigmas trending again due to the recent discoveries of the demographics of who the virus has been impacting, and the strange symptoms it causes.
Is God Punishing Gay People with Monkeypox? Details on How Demographics of Victims Infected by Monkeypox are Fueling this Religious Conspiracy Theory
On social media there is a trending conspiracy theory that God is using monkeypox as a tool to punish gay people, which is based on several facts about the virus outbreak and its symptoms. A recent report from CNN stated that an epidemiologist at Brown University said that their research data indicates that monkeypox infections are happening almost exclusively among gay men. In addition the epidemiologist named Jennifer Nuzzo stated that the transmission of the virus is mostly happening during gay intercourse. Their pool of data was pulled from monkeypox cases around the world including America.
In addition a recent study conducted by the New England Journal of Medicine on 528 confirmed cases of Monkeypox found that 95% of the infected were gay men who caught the virus after having intercourse with another man. WHO also sent out a message on Twitter stating that the monkeypox outbreak is almost exclusively concentrated among the gay community.
Lastly according to CNN many Public Health experts believe that LGBTQ Gay pride parades in June may have been a major cause of current influx of Monkeypox cases. Essentially it seems the Monkeypox issues increased significantly after Gay Pride month, which caught the attention of public health officials and conspiracy theorists alike.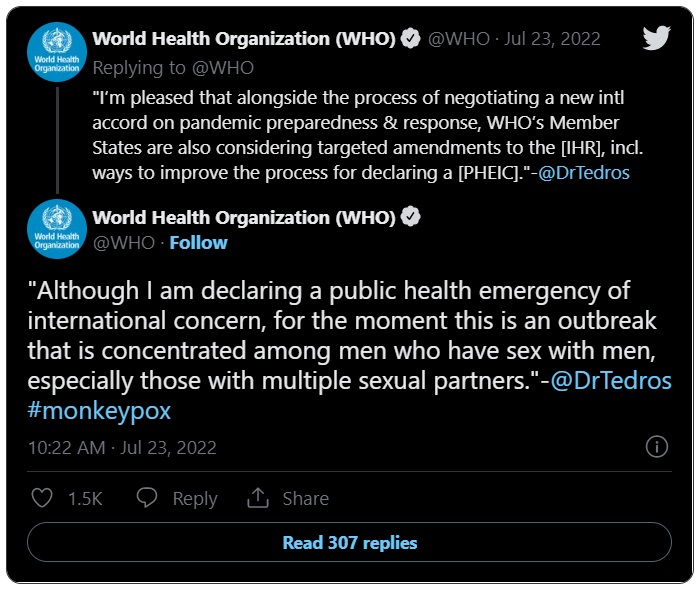 Details on How Symptoms of Monkeypox are Fueling the Religious Conspiracy Theory Monkeypox is God Punishing Gay People
Monkeypox is generally not a fatal disease, but the symptoms can be life changing. According to Dr. Jason Zucker of Columbia University's Department of Medicine, Monkeypox causes severe rectal pain that increases every time a person uses the bathroom. In addition it also causes severe genital pain when a victim urinates, and severe throat pain when a victim swallows. Religious conspiracy theorists believe these symptoms are more proof that God is using Monkeypox to punish gay people, since those symptoms would deter them from having intimate contact of any kind with each other in theory.
Take a look at some reactions from around social media.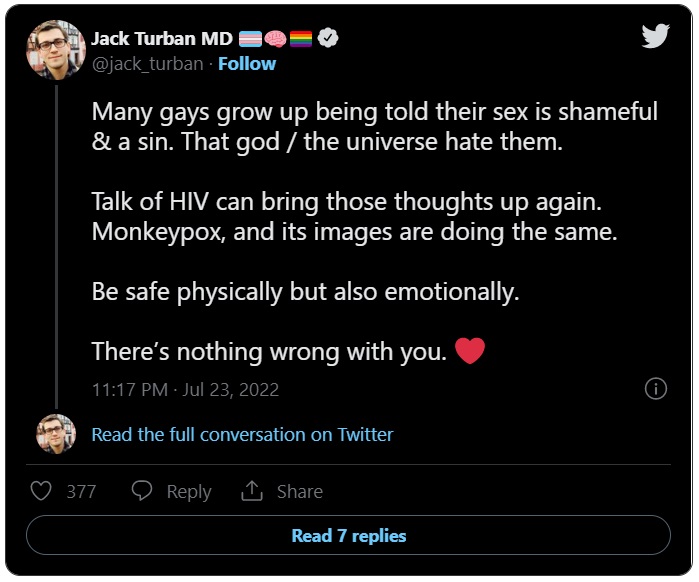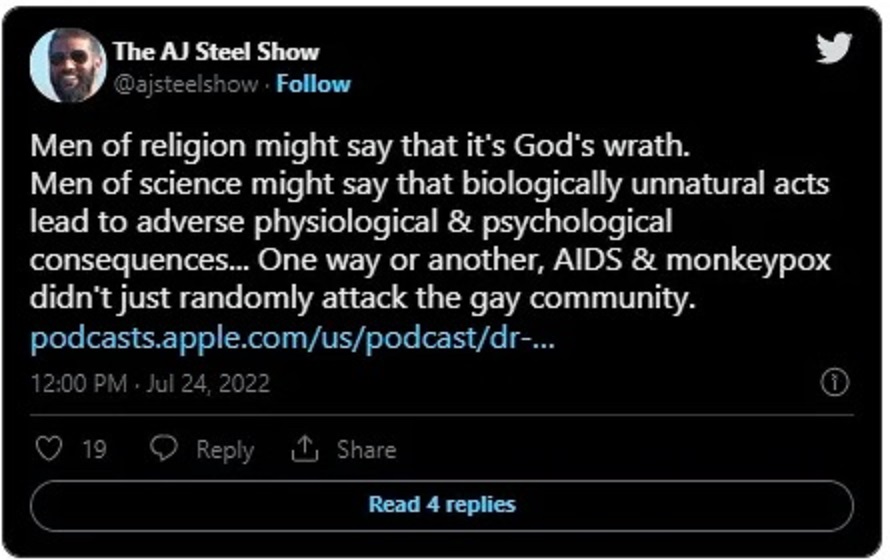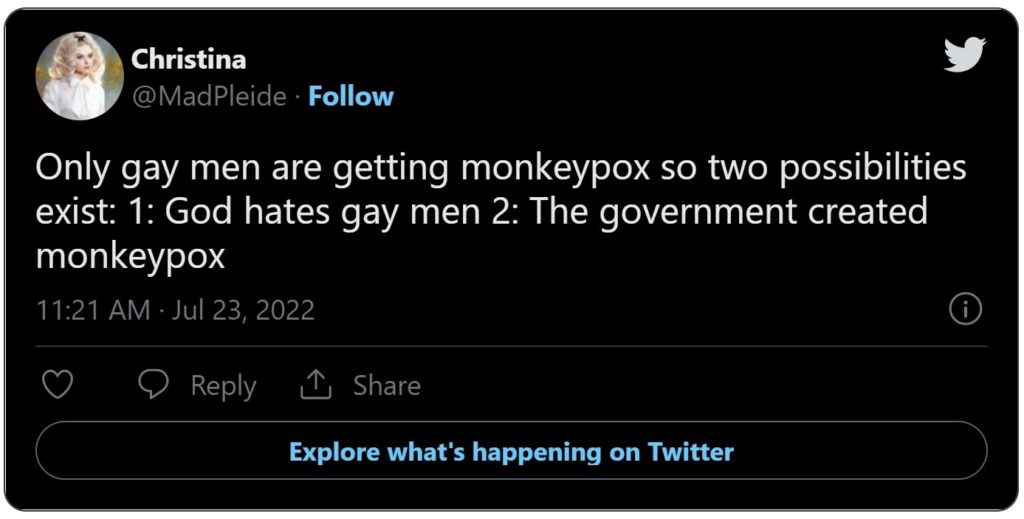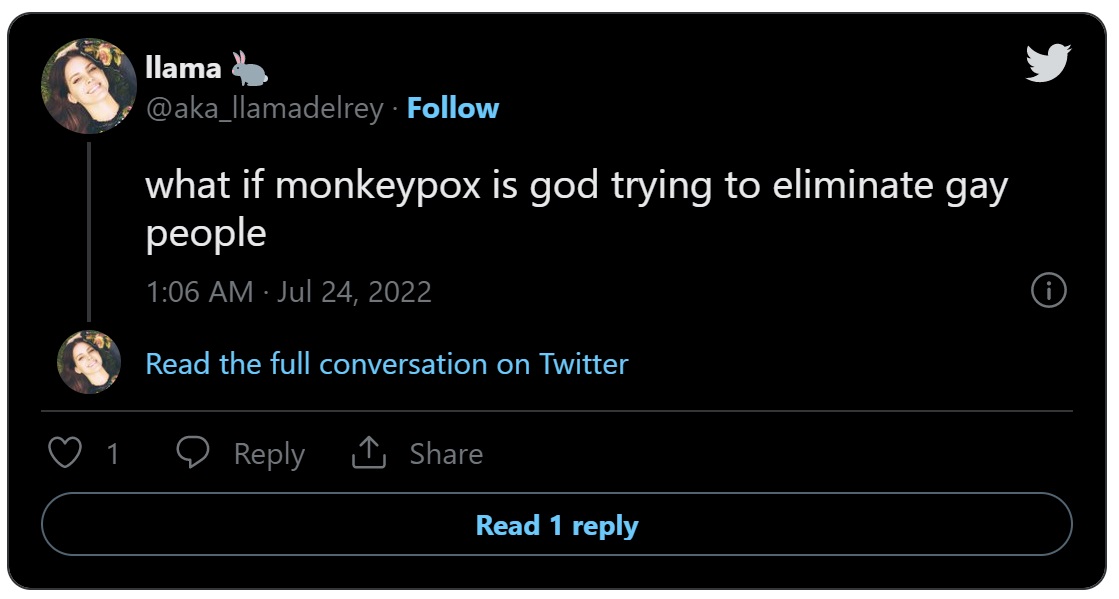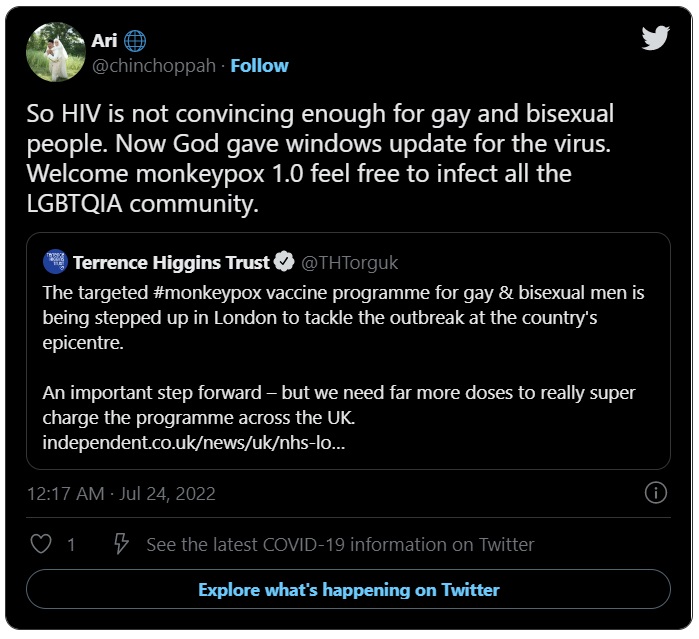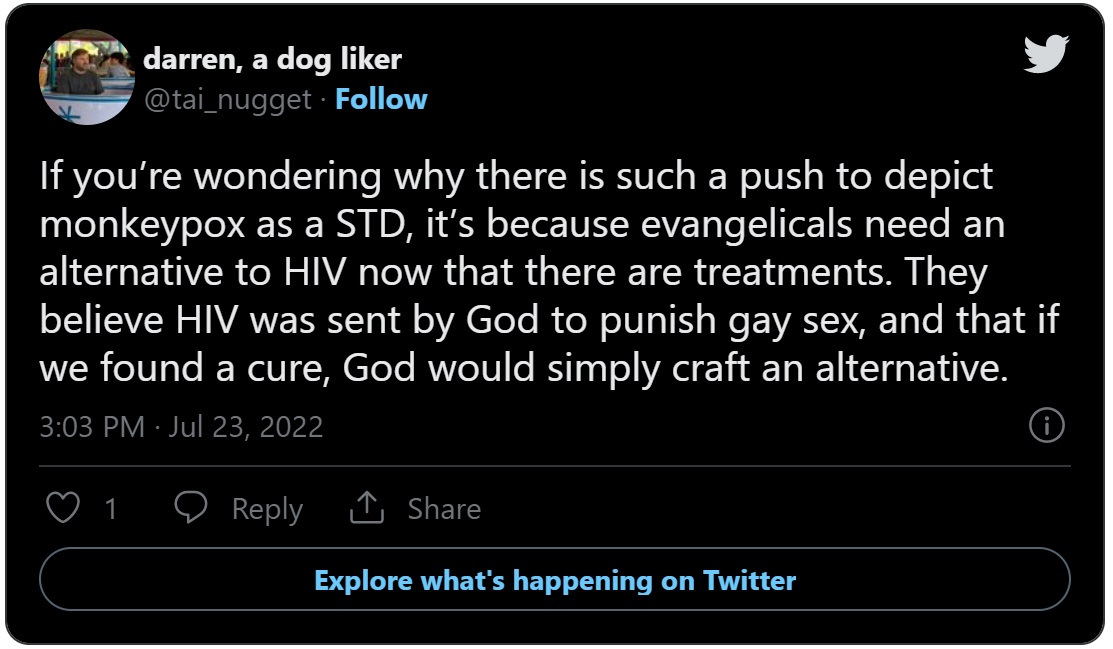 The implications of the stigma monkeypox has caused on the LGBTQ community could spell tough times ahead for people who are gay around the world. With news coming out that two children contracted monkeypox after coming in contact with a gay person things could get worse in terms of negative comments on social media.
In the bible there are some instances where God uses disease to send a message to people that were deemed 'sinners'. For some religious people the current evidence at hand is all they needed to believe the conspiracy theory that god is punishing gay people with the monkeypox virus.
However, there very well could be a scientific explanation behind the current statistics, or it could all simply a coincidental. The most important thing to remember is that anyone and everyone can catch and spread monkeypox, so we all need to be careful regardless of who you are.