A recent message from Microsoft Xbox has sparked a lot of speculation among gamers about the possible ban of Zen controllers, a controversial device that allows users to cheat in various games.
Why are People Saying Microsoft Xbox Banned Zen Controllers?
The message, which appeared on Xbox consoles when gamers tried to use some third party peripherals, stated that "A connected accessory is not authorized. Using unauthorized accessories compromises your gaming experience. For this reason the unauthorized accessory will be blocked from use on December 11, 2023". Many users posted images of the message on social media, making it a trending topic.
What are Zen controllers?
Zen controllers, or Zens, are devices that can be attached to regular controllers and provide various advantages in games, such as rapid fire, aim assist, recoil control, and more. They are especially popular in games like NBA 2k23, where users can use them to "green" every shot, meaning they can make perfect shots with ease.
Zens are widely considered as cheating devices by the gaming community, and many players have expressed their frustration and anger towards those who use them. The word "zensational" exists due to these devices.
Why Microsoft Xbox's Ban Probably Won't Impact Zens Controllers
The message from Microsoft Xbox did not specify which accessories are considered unauthorized, but many users assumed that it was referring to Zens. Some users welcomed the news, hoping that it would create a fairer and more enjoyable gaming environment. Others were skeptical or disappointed, as they either use Zens themselves or doubt that the ban would be effective.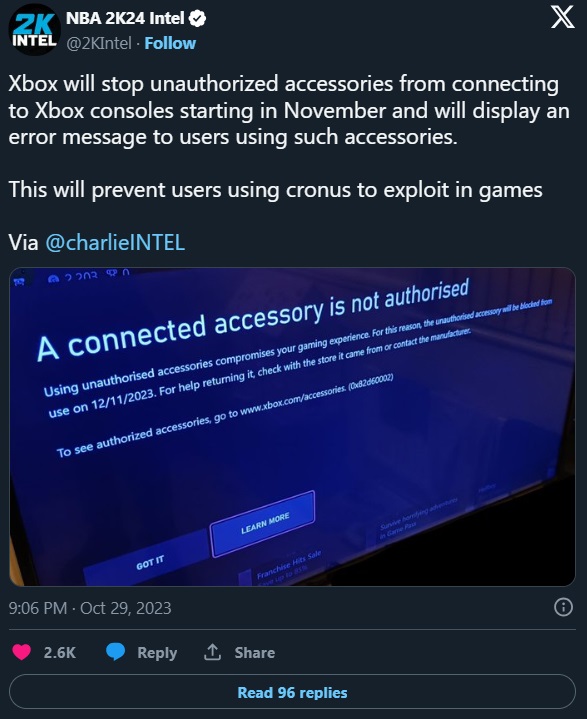 Some rumors suggest that Zens are able to authenticate themselves as first party accessories via regular controllers, which means they could still work despite the ban in theory. However, this has not been confirmed. It is also unclear how Microsoft will detect and block unauthorized accessories, and whether there will be any consequences for those who use them.
As of now, there is no official statement from Microsoft regarding the possible ban of Zens. Until then, gamers will have to wait and see what will happen on December 11, 2023.