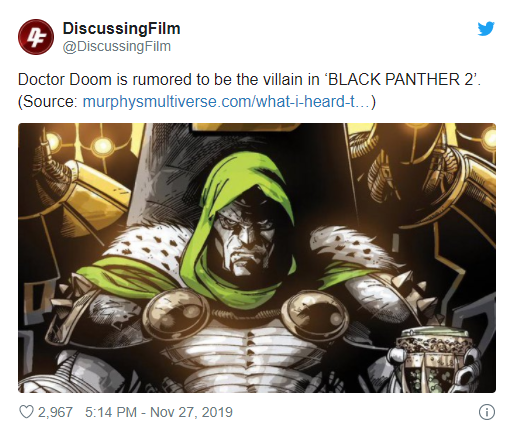 Doctor Doom will allegedly be the villain "Black Panther 2" Movie Sequel.
There is great news in the Marvel Universe. According to Reports, Doctor Doom will possibly be the villain in the "Black Panther 2" movie. This spells trouble T'Challa, as Doctor Doom is basically another version of Thanos in terms of his unique combination of power and ruthlessness. Most likely if he is really the villain, there will be series of movies where he wreaks havoc on Wakanda, just like Thanos. He is the type of villain that can't be defeated in just one movie.
The only issue I have with Doctor Doom being brought to big screen is corniness. His costume is already slightly corny, and we know superhero movies usually don't do characters costumes justice. Either way the excitement for Black Panther 2 has just skyrocketed with this rumor.