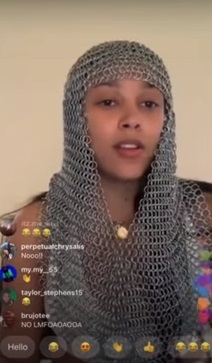 Doja Cat did a medieval rendition of Hot Box by Roddy Ricch on Instagram Live. Doja Cat had a ye olde tone to her voice, as she recited the lyrics to Hot Box.
Fans are going crazy over how perfectly Doja Cat did her impression of Roddy Ricch, with the medieval twist. She even wore a uniform from the time period.
Doja Cat starts reading the Hot Box lyrics at the 3:46 mark of the video.

The video shows the creativeness Doja Cat has, along with her comedic abilities. She's basically a walking reality show at this point.
Roddy Ricch will definitely be proud when he hears Doja Cat's ye olde rendition of his hit single "Hot Box".
Author: JordanThrilla