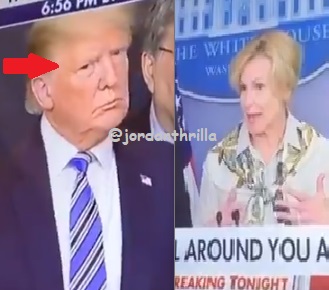 Donald Trump Abruptly Leaves Press Conference Stage On Live TV after Deborah Birx Says She has a Fever.
Donald Trump doesn't want to catch be near anyone with a fever during the coronavirus pandemic. In a new video Trump ran off the stage of a press conference after a woman said she had a fever. That woman was Dr. Deborah Birx.

As she spoke and started to describe the coronavirus like symptoms she had, Donald Trump eyes got as wide as the ocean in surprise. Once she said she had a "fever", Trump said "oh no" and quickly ran off the stage away from the cameras.
Whether or not you like Donald Trump, this moment was pure gold. It looked like something straight out of a comedy movie the Trump left when she said "fever" . Honestly, it's same reaction a lot of people would have when someone says they have the fever like symptoms during the coronavirus pandemic.
Stay safe everyone.
Author: JordanThrilla