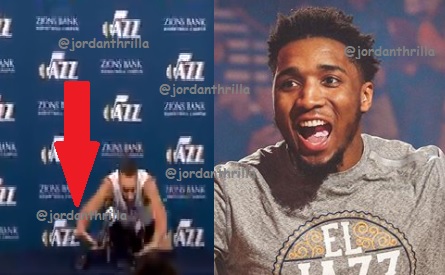 Donovan Mitchell Takes Shots At Rudy Gobert For Purposely Spreading Coronavirus. Rudy Gobert Responds to Donovan Mitchell saying he "Feels Great".
Donovan Mitchell dissed Rudy Gobert for touching microphones on purpose then catching and spreading coronavirus. In a new Instagram post, Donovan Mitchell took major shots at Rudy Gobert saying people need to behave responsibly and realize the seriousness of the situation around COVID-19. Rudy Gobert responded to Donovan Mitchell indirectly, which you will see below.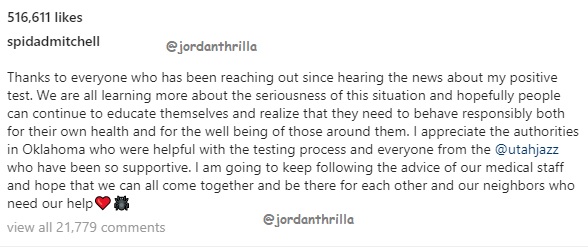 Donovan Mitchell is dissing Rudy Gobert, because he purposely touched every single microphone in the NBA media room to prove the Coronavirus wasn't serious, then ended up catching it. The NBA had to suspend the NBA season shortly after Gobert tested positive for the virus. Donovan Mitchell then also tested positive for the coronavirus shortly after.


Rudy Gobert caught wind of Donovan Mitchell comments, and posted a powerful short response of his own "I feel Great Now". Gobert was trying to prove that people are blowing the coronavirus situation out of proportion. It seems he is standing firm behind what he was trying to prove by letting the people dissing him know that he feels great.
The main thing to learn from this situation is even if you think the media is over exaggerating the coronavirus situation, being irresponsible about it isn't the answer. The consequences of trying to prove a point can be dire, in this case it shut down the NBA season for everyone.
It is good to know that Rudy Gobert doesn't seem to be affected by the virus.
Author: JordanThrilla