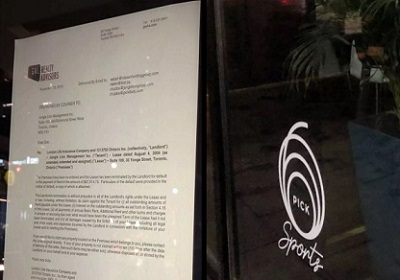 Drake's Toronto Sports Bar "Pick 6ix" Fails Again, Shut Down by Landlord, for Non Payment of Rent. Is Drake Broke?
Drake's Toronto Bar Investment has failed, and Drake might be going broke. The "Pick 6ix" sushi bar located in downtown Toronto Canada, was shut down after owing almost $70,000 in back rent. A message pasted on the bar's window read,
"The Premises have been re-entered and the Lease has been terminated by the Landlord for default in the payment of Rent in the amount of $67,514.73".
According to reports, Drake's team has only 10 days to remove all their property from inside restaurant, or it will be put up for auction or thrown away.
Many people are wondering why Drake wouldn't be able to pay rent. Drake is at a point in his career where he seems to be falling off, and his finances could be growing thin. This could be a sign that Drake is abandoning past investments in a desperate attempt to save some cash. Story is still developing.