Dwight Howard Announces He Will Enter the 2020 NBA Dunk Contest for first time in 11 years.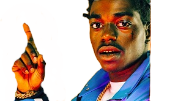 Dwight Howard will officially be in the 2020 NBA Dunk Contest. Reports are saying Dwight Howard will participate in the 2020 Dunk Contest. It will be 11 years since the last time he appeared in a dunk contest, which was 2009. In that dunk contest he did the iconic superman cape dunk on a 12 foot rim.
The last few years of Dwight Howard's career have been largely a disaster. He was riddled with back injuries, and then a butt injury. He became a journeyman that found himself on a different team every season. Last year he barely even played a few games.
That all changed when he signed with Lakers, which rejuvenated his career. Now he is having a monster season off the bench, and looks just as athletic as he did in his prime. If you are wondering if the back was 100%, this is proof.
The 2020 Dunk Contest will now be a historical event. The NBA Superman is back, no pun intended.