Dwyane Wade Post Cryptic Message About Bulls General Manager Executive Position.
Is Dwyane the Bulls new GM? The Chicago Bulls announced today they have started a formal search for a new top executive with full control of basketball decisions. This led to Dwyane Wade saying "I Know Someone" in a cryptic tweet in response to Bulls announcement.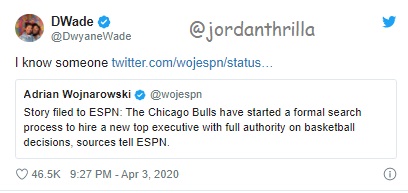 Dwyane Wade may have only played once season with Bulls, but Chicago is his home. Dwyane Wade grew up in Chicago, and still calls it his home city. When he played for the Bulls, he even called it a "homecoming".
For Dwyane Wade if he is able to land that Executive position with Bulls, it could be a bigger accomplishment than his second and third NBA championships. It would be a true "Big Baller" move as Lavar Ball would say.
Dwyane Wade Bulls General Manger just sounds right too.
Author: JordanThrilla