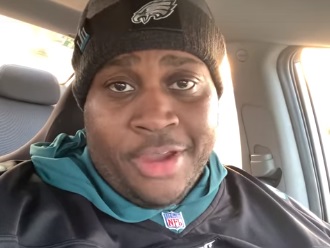 Eagles Supefan EDP445 gets FIRED from His Job to Watch the Eagles Lose to Seahawks. EDP445 loses his job to watch Eagles eventually lose anyway.

Today was a tough day for Eagles fans, and an even worse day for Superfans like EDP445. In his viral youtube video, he reveals that lost his job just to go watch the Eagles play hoping it would be worth it, to see them win.

Unfortunately the Eagles ended up losing the game, and the day became a nightmare for Eagles fans everywhere. With so many uncertainties about next season in the air, this is the worst kind of end to the season Eagles fans could of Imagined.
On the same day this happens, you end up also losing your job. A real life double whammy. The bright side here, is that EDP445 seems to have lived up to his super fan image. Only a superfan would have a story like this to tell.