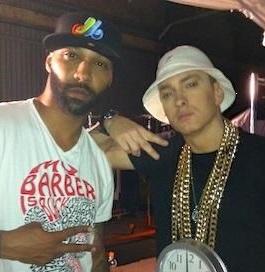 Eminem Dissed Joe Budden Calling Him a Traitor On His New Album.
Joe Budden is not going to be happy after he listens to "Lock It Up" on Eminem's Music to Be Murdered By Album. On the song Eminem uses his clever word play to call Joe Budden a traitor for leaving Shady Records.

Around the 1 minute mark of the song, Eminem raps about Kroger, then says "Why would I give a f**k about that 'Trader Joe' for". Trader Joe's is name of another grocery store, but is wordplay to reference "Traitor Joe Budden".
Joe Budden left Shady Records, then became an avid enemy of Eminem. It's even rumored that Eminem helped Joe Budden become sober, yet Joe Budden still left Shady Records.
Knowing how Joe Budden is these days, he's most likely excited that Eminem mentioned him, but we should still here a response from him soon enough once he realizes he was dissed.
All in all this is a good thing for fans, both Eminem and Joe Budden are known as some of the best lyricists in Hip Hop. A beef between these two would be great for hip hop.
Author: JordanThrilla