Eric Bellinger Challenges to Weeknd to "Climax Challenge" for his Comments on "Climax" Song.
The Weeknd has stirred up a lot of controversy with his new song, and it has created a "Climax Challenge". After hearing the comments on "Climax", Eric Bellinger called out the Weeknd directly and challenged him to a "Climax Challenge" battle.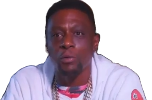 Will the Weeknd accept the challenge? Can hit even beat Eric Bellinger in a Climax Challenge like this? Only time will tell.
Author: JordanThrilla