FEDS Arrest Playboi Carti on Drug and Gun Charges.
Playboi Carti has been arrested in Georgia on by Federal Police. Playboi Carti was stopped in his Lamborghini after a cop saw his tags where expired.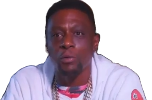 Police reports state marijuana, xanax, oxycodone, and codeine where found in Playboi Carti's car. His friend who was riding with him was also booked on charges.
Iggy Azalea is going to be sad when she hears the news about her boyfriend Playboi Carti.
Author: JordanThrilla