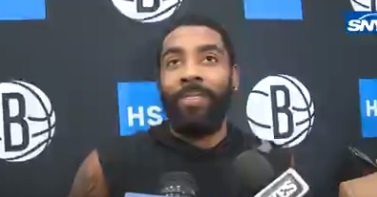 Frustrated Kyrie Irving Goes Off on Media and Tells the Media "Stay the F**k Out" of Our Locker Room.
Kyrie Irving is on an emo strike again, and this time his emo energy was directed at the media. In a new interview Kyrie kept it simple, he told the media "You're NOT in our lockerroom so stay the f**k out".

Kyrie Irving was alluding to media talking about his history of being an overly emotional terrible leader on the basketball. However, it seems Kyrie Irving can handle the truth.
We previously wrote about how Kyrie Irving's time with Nets would be a disaster, so far that is exactly what it has been with the Nets looking much better as a team when Kyrie Irving doesn't play.
It's going to be a long 4 years for Nets fans.
Author: JordanThrilla