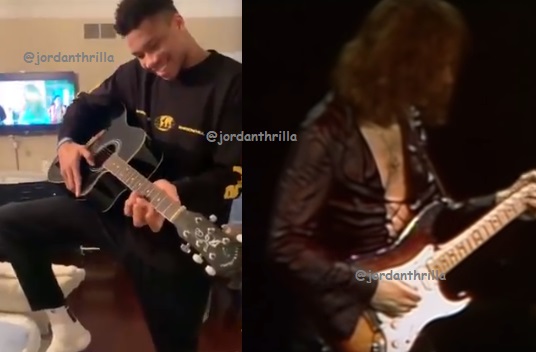 Giannis Antetokounmpo Learns to Play Guitar Song "Smoke on the Water" by Deep Purple, while taking time off for Coronavirus suspension.
Giannis now plays the Guitar, and he used the league suspension for coronavirus to perfect his skills. In a viral video Giannis Antetokounmpo played Deep Purple's "Smoke on the Water" song on his guitar, to perfection. Giannis playing the guitar this well has to be seen to believed.

When you compare Giannis' guitar rendition of the Deep Purple classic, you see how accurately he played every note. Deep Purple released "Smoke on the Water" with their 1972 album Machine Head, so this shows Giannis Antetokounmpo is a fan of old school music.
Many people said NBA players wouldn't know what to do with NBA season suspended on short notice. People forgot NBA players have other talents besides basketball, that they now have time to work on.
Giannis the guitar player, may be even better than Giannis the MVP NBA player. It's clear his name starts with "G" for a reason, it was probably because he would end up falling in love with the Guitar.
Author: JordanThrilla