Gilbert Arenas is never shy about speaking his mind on viral topics, so it's no surprise he decided to chime in on the Devin Booker situation. Devin Booker went viral in a clip where he got mad that people where double teaming in a simple exhibition pickup basketball game. Devin Booker said he wanted to work on his game, and double teams wouldn't allow him to do that. In that video Booker famously said, "I see that all season long"
In his response to the situation, Gilbert Arenas wrote a rather long statement, saying that Devin Booker needed to accept the double teams and even demand them. He said Devin Booker should actually take it as disrespect if he wasn't getting doubled. Basically Gilbert Arenas was trying to instill an old school tough mentality in Booker. Gilbert Arenas did admit he understands how annoying it is to be double teamed in a pickup game.
Here is how Devin Booker responded: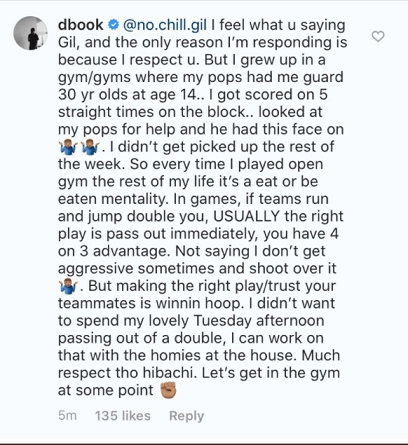 Devin Booker responded basically saying he disagrees with Gilbert Arenas, but in a respectful way. Devin Booker's reasoning, was double teams are essentially a "bail out" for someone who is being dominated in a pickup game. He used some examples from his younger days as a 14 year old playing against 35 year olds, to support his argument.
Hopefully this exchange leads to Devin Booker and Gilbert Arenas meeting up at a gym somewhere to play some 1 on 1. They are very similar players when you think about it, except Gilbert Arenas actually lead a team to the playoffs. Devin Booker could learn a lot from him.
#DevinBooker #GilbertArenas #Pickup #DoubleTeams