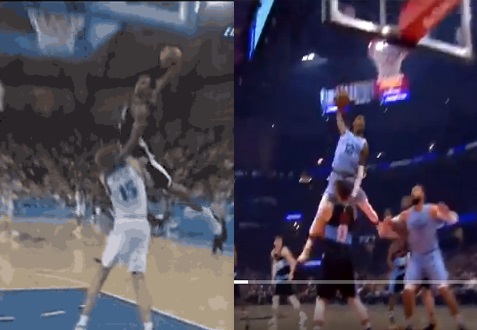 Ja Morant Literally Jumps Over Kevin Love like Vince Carter Did in the Olympics, during Cavaliers vs Grizzlies.

Ja Morant turned into Vince Carter, and literally jumped over Kevin Love. The rookie has shown athletic flashes all season, but this was the most athletic. Take a look at the Vince Carter dunk below, and you can see how similar they are.
If that dunk had been completed, we would of needed to pray for Kevin Love. He is the luckiest NBA player alive today, since Ja Morant missed the dunk.
Ja Morant usually plays smooth and below the basket, but what makes him special is his ability to jump like Westbrook or Vince Carter at any given time. You could say Ja Morant is what Kyrie Irving would be, if he had athleticism like Westbrook. Grizzlies have a very special talent on their hands, and the most athletic point guard in the NBA.