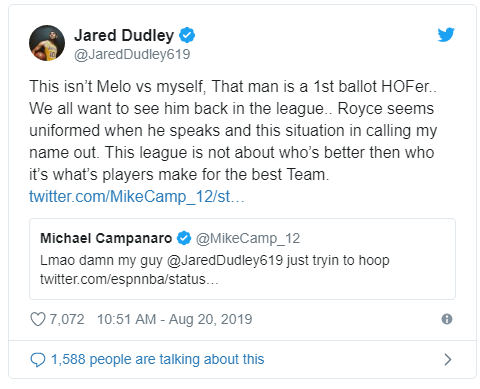 Royce White is back in the news, and this time it isn't related to his anxiety issues about flying on planes. This time Royce White spoke out in defense of Carmelo Anthony in a viral rant. He wanted to know how Jared Dudley got signed before Carmelo Anthony did. He also wanted to know how Lebron James could let something like this happen.
Today, Jared Dudley finally responded, trying to talk some common sense into Royce White in a now deleted tweet. In the tweet Jared Dudley said "This isn't Melo vs Myself, That man is a 1st ballot HOFer. We all want to see him back in the league.. Royce White seems uniformed when he speaks in this situation in calling my name out. This league is not about who's better then who, it's what players make for the best team". Jared Dudley was spot on with his comments.
I'm not totally sure if Royce White has been watching NBA basketball the past few years, but if he has, he should know how terrible Carmelo Anthony is now. Carmelo Anthony is a really bad defender, a bad locker room guy who is always against coming off the bench, and also he can't hit an open jump-shot to save his life anymore.
Jared Dudley on the other hand, is one of the best defenders in the league. Lakers badly needed to revamp their defense. Jared Dudley is a very very good spot up shooter, and good spot up shooters make Lebron James almost impossible to guard. Jared Dudley is also a great locker room guy who is willing to fill any role the coach wants him too.
Essentially, Jared Dudley is the perfect fit for the Lakers roster, and many other NBA rosters, while Carmelo Anthony is a horrendous fit for any NBA roster at this point. This is why Houston Rockets sent Carmelo Anthony home only a few games into the 2018-2019 NBA season.
Carmelo Anthony used to be a great player and prolific scorer, but the sad truth is, in this day and age, Jared Dudley is simply the better player for an NBA roster.
#RoyceWhite #responds #JaredDudley #CarmeloAnthony #Lakers #uninformed