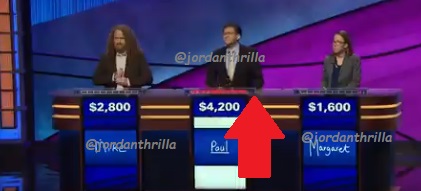 Jeopardy Contestant Answers "Do a 180" to Joel Embiid question asking what his trademark nickname is.

A Jeopardy contest said "Do a 180" instead of "The Process", when asked what Joel Embiid nickname and Sixers strategy is called. It clear none of the Jeopardy contestants were 76ers fans.

Most people thought the "Trust the Process" phrase was common knowledge even among people who aren't NBA fans. Well, it looks like those people are wrong because none of these contestants had any idea what Joel Embiid nickname is.
Just goes to show it's sometimes the easiest questions that can stump even the smartest people.
Author: JordanThrilla