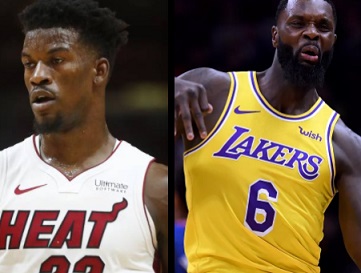 Jimmy Butler Takes Shots at Lance Stephenson and Disses Him For No Reason, "If He Can Do It, I can Do It".
On a recent episode of "Winging it", Jimmy Butler revealed some strange information to Vince Carter. As he was talking about his life he said this,
"I always saw Lance Stephenson… I saw him and I was like 'nah man if he in the league then I can be in the league'. He is a talented don't get me wrong, but if he can do it I can do it."
"I was watching guys play, was like 'I know I'm not that good of a basketball player, but I know I can make it if this guy can make it'"
On the surface it may not seem like a strong diss. However, when you think about it, a little more, you realize how disrespectful of a diss it really is, for one simple reason. There are so many other players, that are much worse than Lance Stephenson. He is actually known as one of the more talented players, that didn't quite live up to the hype, to most people not named Jimmy Butler. At the moment Lance is currently out of the NBA, and playing basketball in China.
It seems like Jimmy Butler was actually taking a shot at Lance Stephenson the person, rather than just the basketball player inside him. It sounded like it was a bit personal. Too random, not be personal. Only question is, what does the beef between these two stem from?