Joe Budden Clowns Deontay Wilder After Tyson Fury Knocks Him Out and Licks His Blood Off Him to Violate Him.

Joe Budden was the first of many people to clown Deontay Wilder for getting beat up losing by TKO and letting Tyson Fury lick the blood off him during the match. Joe Budden said "nah you not gon beat me up and lick my blood off me, no Sir".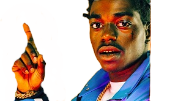 Wilder truly got embarrassed to the point of violation, is what Joe Budden seems to be trying to say. Tyson Fury did everything he said he was going to do before the, to a perfection.
This loss was reminiscent of what happen to Anthony Joshua in the first match vs Andy Ruiz.
It's going to long few months for Deontay Wilder.
Author: JordanThrilla