Karma is on a Mission to Destroy the Warriors for purposely Injuring Kawhi Leonard and Draymond Green Might Be Next.
It all goes back to the 2017 Western Conference finals. Spurs had a 20 point lead and Warriors had no answer for stopping Kawhi Leonard. Shortly after a timeout, Kawhi goes up for a step back three pointer, and Zaza Pachulia slides twice to make sure he landed on his foot, injuring his already injured ankle. In that moment, Karma probably added the Warriors to its list, and never forgot.
Fast forward 2 years later, everything is looking peachy for the Warriors. They're dominating the Rockets as usual, and make the finals without Kevin Durant. What Warriors didn't know, is that Karma was waiting for that day since 2017, the day they would be on the same court as Kawhi Leonard again. The player they seemingly purposely injured.
This is the day when Karma probably awoke from its slumber, and started to rumble. The first victim was Kevin Durant. You could say Kevin Durant got caught in the Karma crossfire, but at the same time no one told him to join the Warriors after he choked against them, and lost a 3-1 lead to them. Notice Klay Thompson is the person standing right next to him, Karma likely already knew Klay Thompson would be next.
Then It Happened, Klay Thompson tore his ACL. The player that was first to come to Durant's aid when he tore his Achilles tendon. Many people thought that Warriors bad luck would stop there, but it seems Karma still isn't letting up.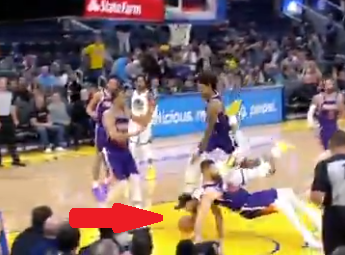 Stephen Curry was next. Just yesterday he broke his shooting wrist and hand, after a freak accident, where Aron Baynes landed on top of him. Now, I'm not one for magic and folklore, but Karma is one thing I think could possibly be more real than most people would admit. If it is really real, Draymond Green could be the next Warriors superstar to get injured. Hopefully he doesn't.