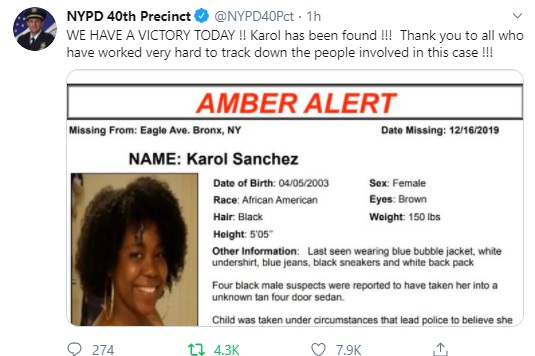 Karol Sanchez Found Unharmed in Bronx New York by NYPD After Being Kidnapped by 4 Men in Front of Her Mom.
NYPD Found Karol Sanchez in Bronx, NY, and she didn't even have a scratch on her. What was a horror story is now one of the happiest endings of the year.
Karol Sanchez was abducted by 4 men while walking in NYC with her mother. The grainy video is one of the most heartbreaking things you might ever see.
It is truly a miracle the Karol Sanchez was found unharmed. A true blessing for her and her family, it what could of been one of the saddest stories in recent times.
Thank goodness she was found, it safe to say everyone one in the world is celebrating this phenomenal news.