Kawhi Leonard Does West Coast Bop Nipsey Hussle Dance After Activating Fun Guy Mode at All Star Weekend.

Kawhi Leonard did the Nipsey Hussle dance, after he activated fun guy mode as he came out to the court for NBA All Star Weekend 2020 festivities.

Robot Kawhi Leonard was nowhere to be found as his fun guy program made him show human emotions and pull off the Nipsey dance without a hitch.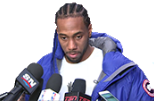 Kawhi has always been a big fan of Nipsey Hussle, and they even had a commercial together.
Nipsey Hussle would probably be proud he was able to bring the usually robotic Kawhi Leonard out of his shell in front of the public eye.
Lets just hope Kawhi Leonard's knee doesn't need load management after pulling off those dance moves.
Author: JordanThrilla