Kawhi Leonard Gets Mad At Reporter Who Asks Him What He Had For Dinner at All Star Weekend Media Day.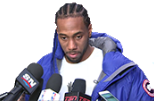 Never ask Kawhi Leonard what he had for dinner. A reporter learned that the hard way when Kawhi Leonard got angry because he asked, "What did you have for dinner".

Kawhi Leonard angrily responded saying "that's none of your concern, ask a relevant question".
It was the first time anyone had probably ever seen Kawhi get mad at someone not on the basketball court.
After seeing Team Giannis stop their own practice in a never before seen way, no one thought that moment would be topped. However Kawhi Leonard has now topped that moment.
NBA All Star Weekend 2020, is shaping up to be legendary for so many reasons.
Author: JordanThrilla