Kawhi Leonard's Massive Hand Leaves Ernie Johnson In Pain After Handshake For Winning Kobe MVP Award.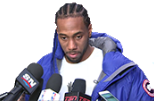 Kawhi Leonard's handshake after winning Kobe Bryant MVP award left Ernie Johnson visibly in pain. As Kawhi Leonard giant hands gripped Ernie's normal size hands, you could see the pain on his face.

This was probably the first time Ernie Johnson shook hands with Kawhi, so he most likely wasn't ready for the Terminator like robot power in his grip.

When you zoom in you can see clearly how Kawhi Leonard hand's makes Ernie Johnson's hand look like that of a small child.
Let's just hope Ernie Johsnon didn't suffer any serious injuries after that handshake.
Ernie Johnson learned first handshake, why they call Kawhi the claw.
Author: JordanThrilla