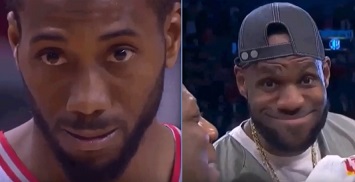 Kawhi Leonard Allegedly Telling People That Lebron James is Scared to Guard Him. Proof that Lebron James is guarding Kawhi and isn't scared. Media Exposed For Lying about Lebron not guarding Kawhi.
Stephen A Smith said Kawhi Leonard sent a message to Lebron James saying,
"Tell Lebron stop being scared to guard me".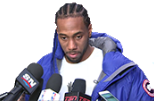 On First Take today, Stephen A Smith claims he heard this information from insider NBA circles. It goes back to the last time Clippers face the Lakers where the media started the story line of Lebron being scared to guard Kawhi Leonard.

The truth is, the narrative of Lebron not guarding Kawhi is all lies made up by the media. The photo above is the Lakers vs Clippers game on Christmas. You can see there, that Lebron is clearly taking the challenge, and guarding Kawhi Leonard.
It was only after Lebron Injured his groin, that Lakers started to put other guys on Kawhi Leonard.
The real question here, is if Kawhi really is telling people that Lebron is scared to guard him, has Kawhi too been brainwashed by the media? Or is Kawhi playing mind games and trolling Lebron by egging on false narratives the media is creating?
Either way it will make for a more intense playoff series, should these two teams meet in the playoffs. Lebron has definitely been guarding Kawhi.