Kevin Durant Responds To Kendrick Perkins Saying Russell Westbrook is the Best Player Ever to Play in OKC. Kevin Durant and Kendrick Perkins Verbal Twitter Fight.
Kendrick Perkins went viral after starting a verbal fight with Kevin Durant on Twitter, over his opinion that Russell Westbrook is the best player to have ever put on a Oklahoma City Thunder Jersey.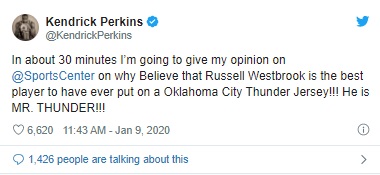 When Marc D'Amico responded criticizing Westbrook for losing in the first round, Kendrick Perkins replied saying,
" KD lost in the second round without Russ when I was there. So what that mean?".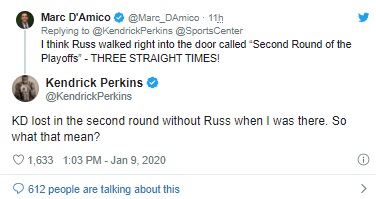 That's when Kevin "Burner Account" Durant chimed in, to respond from his real twitter account, with direct shots at Kendrick Perkins saying, "Yea and our starting center Kendrick Perkins averaged a whopping 2 and 3 during that series. U played hard tho champ lol ".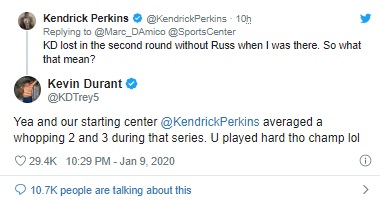 Kevin Durant's comments brought back memories of the Shaq vs Kendrick Perkins "you dominated tonight 4 points" moment from Inside the NBA.

It's safe to say Kevin Durant feels the same way Shaq does about Kendrick Perkins. However, it is definitely not a stretch to say Russell Westbrook is the best player to ever put on an OKC Jersey. To a lot of people, they would agree with Kendrick Perkins.